The prestigious Cannes Yachting Festival is back, starting today, Tuesday the 6th of September and running all the way until the 11th of this month.
Nothing screams Mediterranean wealth like a good old yacht. Dock them in Cannes and you're bound to attract the world's most prestigious, curious and knowledgeable boat owners around the globe — something which happens every September for the world-famous Cannes Yachting Festival.
Founded back in 1977, The Cannes Yachting Festival is a yearly event showcasing the world's finest super-yacht, catamarans, tenders, sailing matches and motor boats. The lineup for 2022 is exciting, featuring boats such as the The Fairline Squadron 68 (a Fairline yacht built in Northamptonshire), The Arcadia Sherpa XL (a self described pocket mega-yacht) or Azimut Grande 36M (introduced to the public for the very first time).
This year, the festival will be distributed amongst two sites (Vieux Port and Porto Canto), but the showcase will continue to host its brokerage in Porto Canto, despite its increase in berthing. The Vieux Port, enjoying a privileged view of Cannes, will be hosting 530 of the 650 boats on show, with the remaining being accommodated in Porto Canto.
As well as boats, the Cannes Yachting festival also hosts a fair of luxury goods within the Palais des Festivals. Said luxury good include watches, jewellery, alcohol, fashion, art and decor — an exhibition catered to those craving the best of the best in the French Riviera.
With such a breathtaking collection of boats and goods on show, here are some of DDW's favourite vessels to be exhibited in this years edition.
The Faro 5: A Touch of Vintage Elegance
Selling for 5 million, this compact runabout takes cues from the 1920s in its design, but works with technologies fit for the times. With just 5 meters in length, this boat features electric propulsion, and a transportable solar charger station, all designed by Tomás Costa Lima.
Dufour 37: A Wide Vessel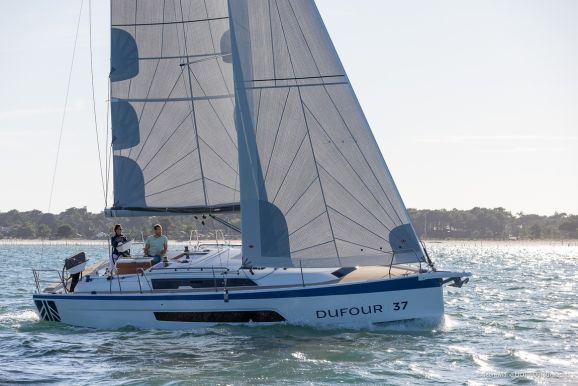 The Dufour is impressive in its proportions. With a length of ten metres, the vessel has a width of almost four, and only one rudder for control. Designed in France by Umberto Felci, its model with three cabins will be first displayed to the public during the Cannes Yachting Festival.
Ferreti 860: Supreme Luxury
This tri-deck motor yatch is an art-deco inspired vessel with an unusually long aft cockpit and a semi-enclosed gallery which allows the crew to go about their business without intruding in the boat's day spaces. Available in classic or contemporary, this vessel is available in warmer and lighter palettes or darker ones.