Yinka Ilori's work features colourful installations, sculptures and artwork inspired by the artist's British-Nigerian heritage.
If you see some bold-coloured artwork in London these days, there's a high chance you're looking at a Yinka Ilori piece. It can truly be anything (hence the beauty of a true multidisciplinary artist), from architecture pieces to interior design, sculptures or installations. All is fair game in Yinka Ilori's world.
Drawing from his British-Nigerian heritage, Yinka Ilori's work is bold and fun, often evoking joy and optimism — something which our current society arguably lacks. His work is very engaging, often designed to encourage the audience and/or users to interact with his pieces.
Ilori's first commercial breakthrough was "If Chairs Could Talk", an exhibition of up-cycled chairs inspired by his childhood friends. Since then, he has been in constant demand after opening his studio. His popularity is such that the artist has featured in some big-name collaborations, namely his work with Adidas where he designed a sustainable bench or his window displays at Selfridges for their Project Earth campaign.
Take a look with us at some of the artist's latest pieces.
Filtered Rays (Berlin)
In his first-ever permanent exhibition in Germany, Yinka Ilori designed a site-specific pavilion in front of the Estrel Berlin hotel, which has a strong relationship with current contemporary artists worldwide.
Filtered Rays are made up of re-used scaffolding, translucent PTFE membranes and a colourful overhead canopy in staple Ilori colours and patterns. The installation challenges the relationship between space and perspective, encouraging passers-by to enter the pavilion and explore its moments of meditation, light and colour, which throughout the summer months will be housing yoga, art and dance workshops for young people.
Labrum SS22 Collection
In a collaboration with Fodz Dumbuya, Ilori designed the set of the latest SS22 fashion show titled "The Sound of Movement", through which Labrum celebrates 1970s the Caribbean and African migrant culture in Britain, which embodies Labrum's mantra of "designed by an immigrant".
Ilori's work is colourful as always, patterned and striped to compliment the unique Labrum collection. The result is a fun, playful and contrasting backdrop to a collection that represents and works with the messages and intentions that Ilori presents in his own work.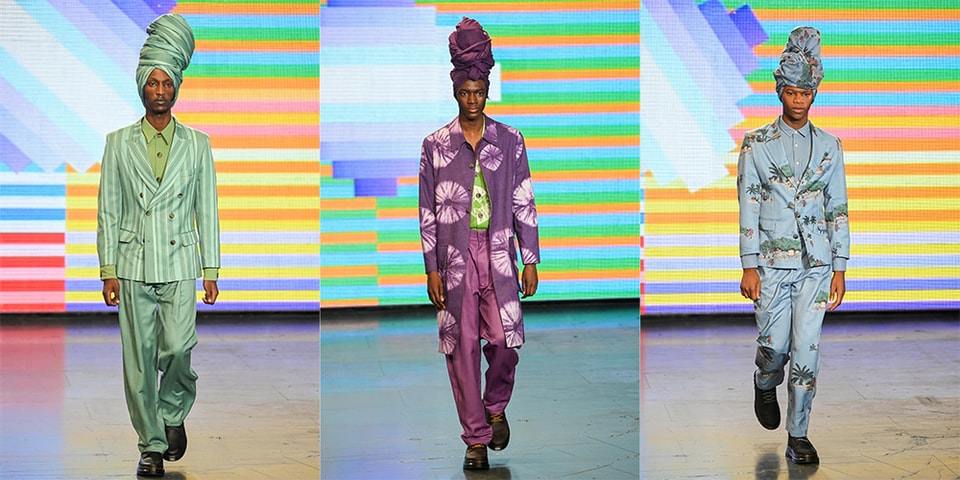 Bluerider Café, Miami
Superblue Miami's cafe was transformed by Yinka Ilori into a colourful fantasy to commemorate Design Miami 2021. After the art crowds dispersed, the permanent intervention stayed open, giving viewers the chance to personally experience Ilori's murals and design ideas, which have been amplified with a Miami twist. The result is an Instagrameable, joyful area which looks like it was taken straight from a kaleidoscopic fantasy book.