As Hugh Hefner himself put it in Hef's Little Black Book, "One of the key moments in my life was the discovery that I could get away with wearing pyjamas most of the time,".
It doesn't matter if you know absolutely nothing about the Playboy mogul Hugh Hefner, because at some point you will have crossed paths with some photographs of him dressed in a deep-red silk gown. That's just the image he has carved for himself; Hugh Hefner is a man in pyjamas surrounded by beautiful women.
"My favourite outfit consists of pyjamas and a custom-made smoking jacket," Spoke Hefner for the Daily Mail in 2007. "I have 200 pairs of silk pyjamas. I always wear black during the day – black is serious, for taking care of business."
This so-called obsession with pyjama wear began in Playboy magazine's early days. A true businessman to his core, Hugh Hefner often worked tirelessly around the clock, often finding himself swamped in work in the late hours of the morning. Pyjamas, thus, became an obvious attire for the late-hour workaholic.
Without a stylist and no idea how much everything costed, Hugh dressed himself for years. His most iconic dressing gown became the deep red silk one, complimentary to his smoking pipe and greyed-out hair.
Of course, the loungewear was great for the hedonistic image of Playboy. Born out of Hugh's very sexual frustrations, fruit of a strict upbringing where sex was never spoken about, Playboy was, in a way, Hefner's way of coming to terms with adult pleasures.
When Hefner was forced to scrub up, he actually did so in custom cuffed Armani suits, in deep shades of garnet paired with silky blacks. In fact, he owned 35 custom Armani pieces. As Hefner said to the Daily Mail, he is "probably the only guy in town who has Armani suits with turn-ups. It's a connection to my sense of tradition and to the time when I was growing up before World War II."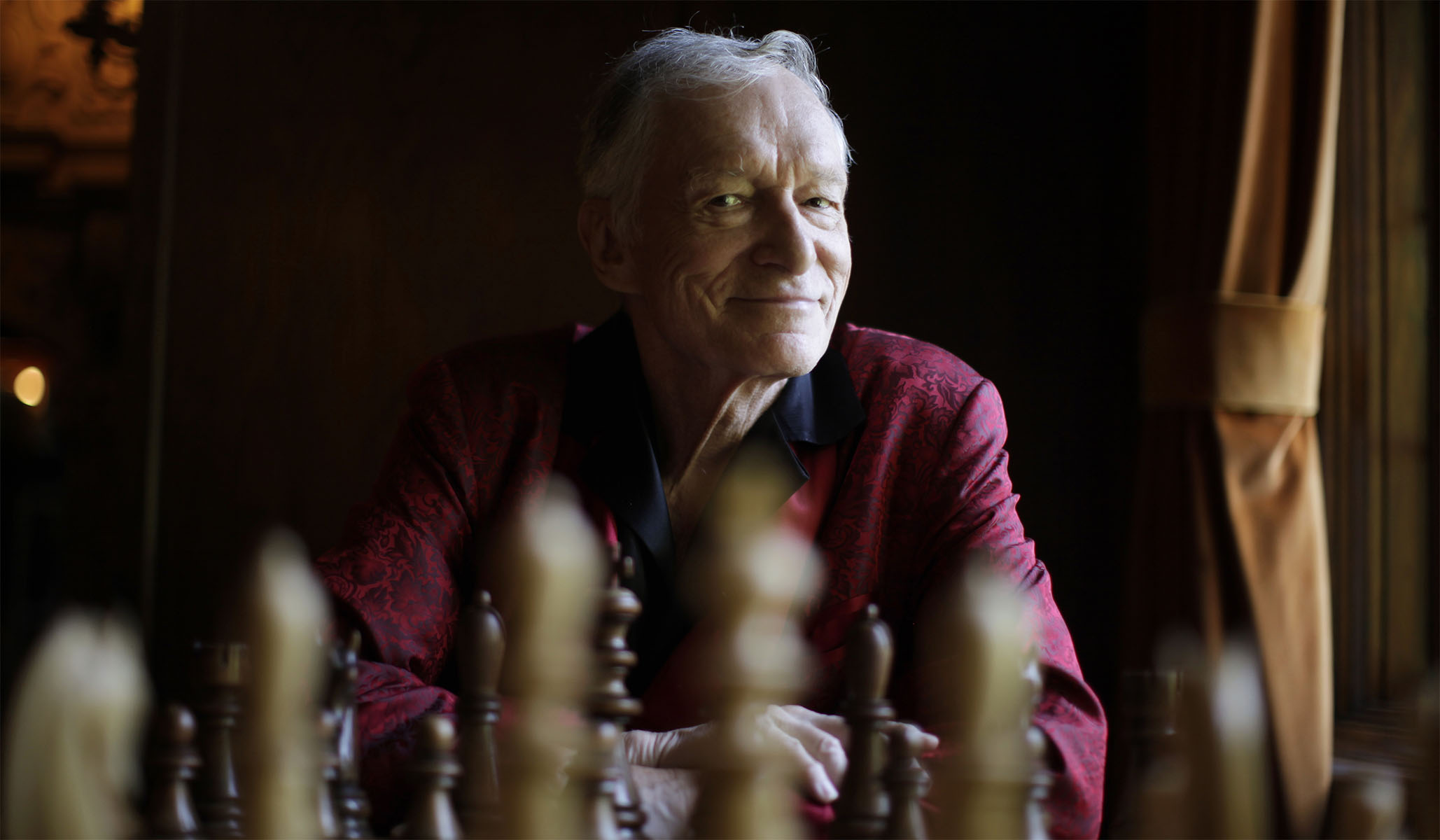 When it comes to shoes, Hefner didn't spare on comfort either. Realising that through his sheer privilege he could get away with pyjama wear all year round, he often chose loafers to compliment. Made in black velvet, his 12-pair collection was custom-made by Di Fabrizio in Los Angeles.
Although Hefner passed away in 2017, his legacy of unapologetic loungewear lasts. A fashion icon particularly in times of pandemic, when loungewear saw an impressive rise in the fashion world, Hefner's silk dressing gowns remain a distinctive Playboy reference and are likely to do so for years to come.