Film, fashion and celebrities; We're halfway through The Venice Film Festival and there's already lots to talk about.
Now on its 79th edition, the Venice Film Festival is one of the oldest and most prestigious celebrations of all things cinematography. With its celebrations being well underway, this year's edition may be coming to a close on the 10th, but it has already given us plenty to talk about.
The Fashion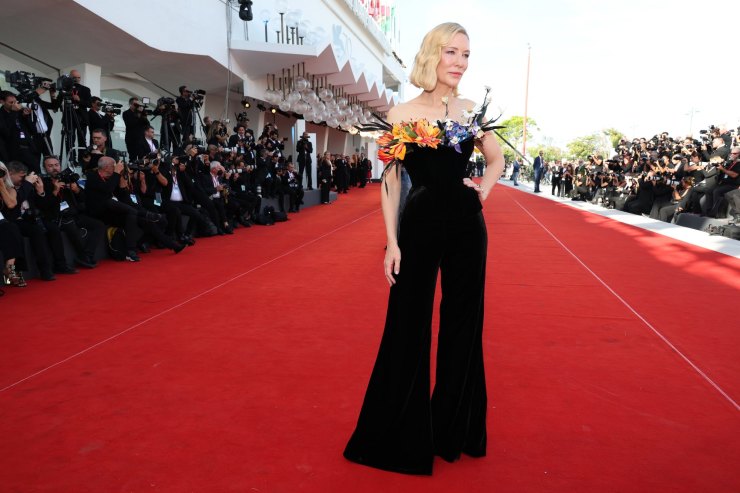 The month of July saw Schiaparelli take over the Paris Haute Couture runway in vertiginous necklines adorned with silk and leather flowers. Now, two months later, we're getting to experience Schiaparelli's magic in Venice, dressing up a beaming Cate Blanchett for the annual film festival. She's not the only one that headlines; Tessa Thompson walks in a sculptural red Elie Saab, and Jodie Turner-Smith sports an all-denim Balmain gown. This may be a festival for film, but fashion is not taking a backseat on this one.
The latest to peak public interest, however, is Harry Styles, whom we all know for collecting a fervent trail of media hype wherever and whenever he steps out into the limelight. Of course, he was wearing Gucci. The outfit in question, a bold neckline suit with wide pants, is part of his upcoming Gucci HA HA HA collection, which Harry styled with chunky rings in a very Johnny Depp-type fashion. His appearance dutifully attracted media attention, as he appeared promoting Don't Worry Darling, a film directed by his very partner, Olivia Wilde. Interestingly enough, Florence Pugh, Style's co-star in the movie, did not make it to the film's press conference, to which Wilde responded with: "Florence is a force; we are so grateful she is able to make it tonight [to the premiere] despite being in production."
The Premiers
The most expected premier, arguably, was Don't Worry Darling, which was congratulated with a five minute ovation and premiers to the public on September the 23rd. The film narrates the story of a couple living in a seemingly ideal community built for the workers and families of a top secret Victory Project. Of course, nothing is ever as it seems.
We also saw the screening of Bones and All, a gentle love story interrupted by moments of gore which has received raving reviews. It was hard to imagine otherwise, with a cast as talented as Taylor Russell and Timothée Chalamet playing hungry outsiders. Also highly acclaimed has been the premier of Todd Field's Tár, starring Cate Blanchett in a drama about a female conductor which reviews claim to start of slow but builds up to a soaring success.
We are yet to expect the screening of some great masterpieces, notably Saint Omer, which follows the trial of Laurence Coly for allegedly killing her 15-month-old daughter or Dead for a Dollar, a western featuring Willem Dafoe.