Obsessed with the concept of "withering decay", Spanish Jorge Parra is the designer, filmmaker, and all-round creative you should keep on your radar.
Jorge Parra's living room walls are peeling, the intricate seams of the walls and floor corroding with old age. His house is dotted with mismatched furniture, eclectic chairs of all shapes and sizes decorating a palace whos walls may have not painted and its interiors never refurbished. And yet, amidst the decadence of an old 1700s palace only an hour's drive from Madrid city centre, Jorge Parra hides his eclectic haven of mismatch, a somewhat architectural embodiment of the creator himself.
There's something peculiar about Parra which makes him resemble a modern-day Dalí. It could very well come down to the hair, which he sometimes wears long and lusciously curly, or perhaps it's his fashion sense, his art, and his apparent eccentricity. His instagram is populated with photos of him in exhuberant headwear, outfits that don't shy away from colour and an almost satirical nature of his creative vision always seeping through whatever he wears. Either way, Parra has cultivated a visual cohesion that has granted him a signature style that is at times playful, Mediterranean and yet in equal parts decadent.
His Creative Endeavours
Parra, which rose to fame through his own brand, House of Bows, is a self described multi-talented artist that has always had a flair for the artistic. He studied in London, where his graduating fashion collection took inspiration from his grandfather's old pyjamas. The rest is history, but despite his most notorious venture (so far) being his brand of designer pyjamas (more on this later), the Spanish artist is not short of creative endeavours. He has delved into film and animation with El Vals Invisible, which presented itself to Spain's notorious Goya prize ceremony, and has also recently worked in a fashion film shot in his very home.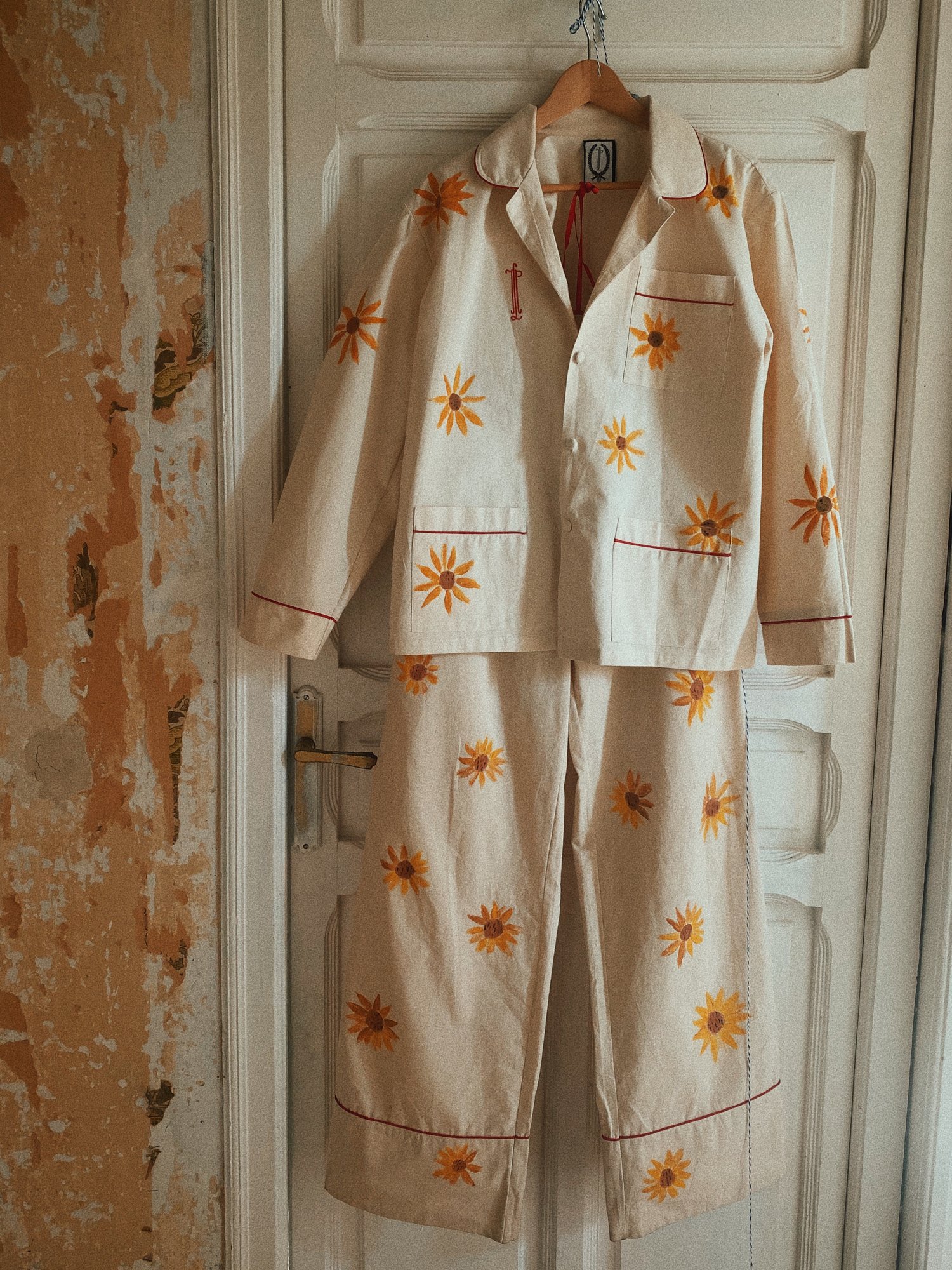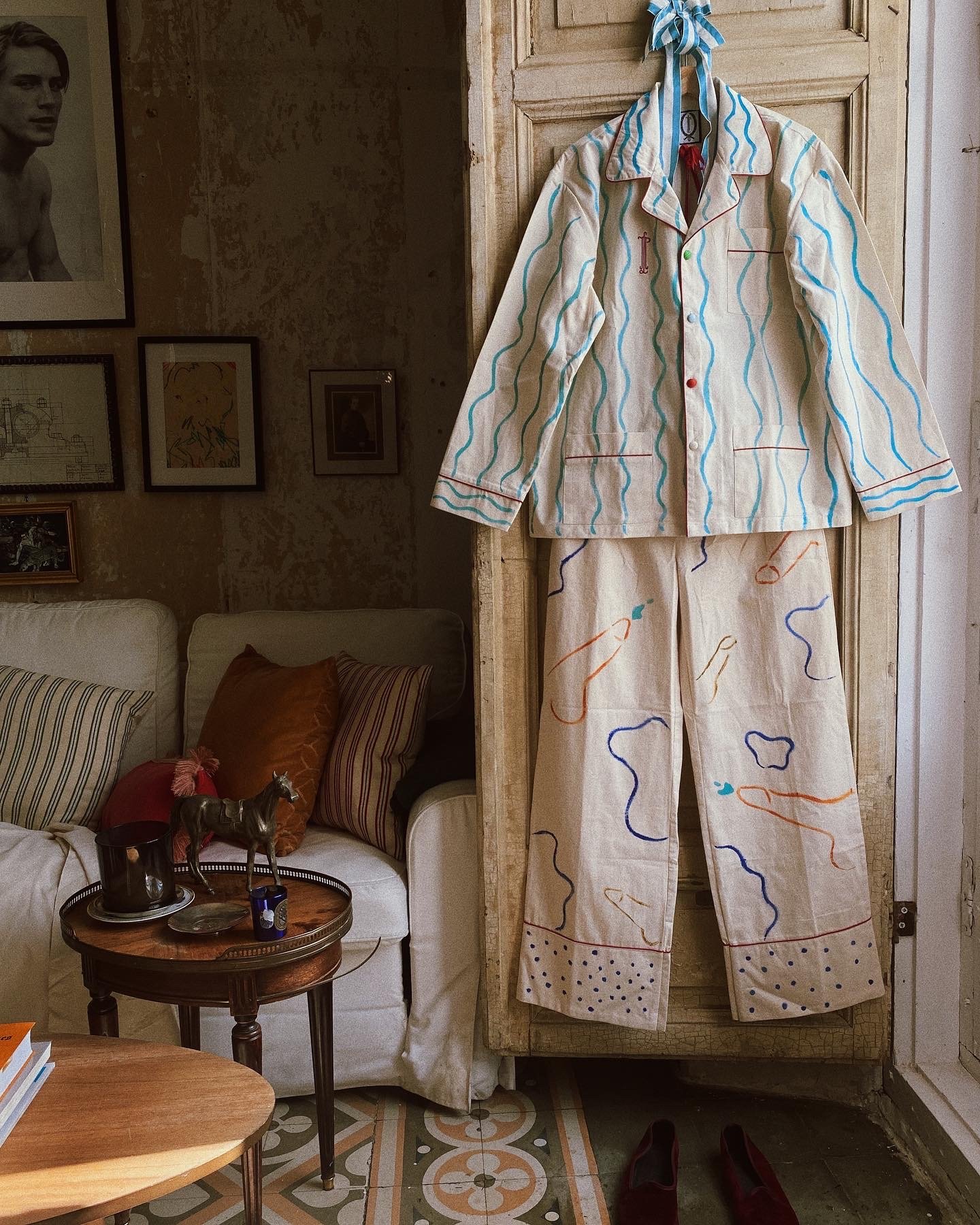 Parra's Withering Decay
What remains constant throughout all of his work, irrespective of what realm of creativity it belongs to, is Jorge Parra's desire to somehow intertwine the melancholically old with the new. For House of Bows, he creates unique and artisanal pyjamas and leisure wear, most often in patterns and tailoring that resemble nightwear from the 1950s, but then depicting penises and child-like squiggly lines. He styles and photographs his work in his own home, amidst eitheenth century wooden doors and of course, the peeling yellow paint.
In depicting the fashion house, House of Bows self decribes by drawing parallels from life's delicately ephemeral moments. It evokes the values and passions that Jorge Parra himself seems to abide to: a patient ejoyment of the mediterranean slow living and appreciation for raw culture.
"The smell of coffee, carnations and roses, of breakfast freshly placed on the table, croissants, butter, jam and olive oil. The smell of peaches, strawberries and the song of the sparrows. The orchard. The powdered colours of Santiago Rusiñol mixed with the subtle sound of Nina Simone and jazz."

House of Bows, Translated to English
And although House of Bow has worked on many collaborations such as the design of the uniforms for Madrid-based restaurant La Parra, Jorge's ultimate goal would be the creation of The House of Bows Hotel, a place he envisions as an elegant palace that hosts creatives of all forms.
Jorge Parra and his llustrations on Sex
Equally signature are Parra's illustrations. Opting for sketchy lines and simple use of colour, Parra's instagram is populated with his drawings. Sometimes sketching his surroundings and quite often drawing around themes related to sex, Parra has painted his work for hotels and restaurants, comissioning his sketchy lines of red greens and ochres onto the walls.
His latest was a collaboration with Hotel Mercure Benidorm, where Parra's delicate touch of green marked the walls and room numbers of the Spanish east-coast's hottest new hotel. Leaving behind a trail of illustrations depicting the beauty of beachfront living, Parra seems to have been heavily involved in many of the intricate details that compose the hotel; from his very own clothing featured in promotional images to the boutique hotel selling his illustrations in the lobby.
His artistry doesn't stop there. He has worked on illustrations for Bulgari, often draws for Condé Nast Traveller Spain and has collaborated with Cartier or Dior. His raw and playful illustrative style is bound to continue populating invitations, magazines and fabrics of some of design's greatest.
Quintessentially Spanish
With such a distinct style, Jorge Parra is part of a wave of creators in Spain which are increasingly embracing thier home country's traditions and influence in their art output. As opposed to abiding to internationalisation in style, they are delving into the colours, patterns and shapes that form their root culture and re-interpreting them in a contemporary manner. In Jorge Parra's case, the output results in the use of warm colours, plunging necklines and balloon sleeves.
Despite the barroqueness of his surroundings, there is no doubt about where Parra comes from, and that is precisely part of his beauty.
We remain vigilant and expectant on what the all-round creative will delve into next.