Puma x Arnold Palmer releases their yearly collection inspired by the king of golf.
Every year, the Arnold Palmer Invitational takes place in Orlando, Florida, congregating some of the best golfers around the world. The prize bag is a hefty one; 6.2 million dollars, to be precise, and every year, Puma releases a Puma x Arnold Palmer collection, designed in conjunction with the Arnold Palmer Enterprises to pay homage to the golfer accordingly.
Who is Arnold Palmer?
Arnold Palmer was a big deal golfer back in the 50s. Born in the US, Palmer was one of the first major television stars and part of the big three, made up of Jack Nicklaus y Gary Player.
Arnold's wins in golf championships are numerous (so much so, that it's difficult to count). He retired in 2006, and eventually passed away 10 years later, leaving behind a legacy which is just as prominent as the name itself.
Recent Puma x Arnold Palmer Collections
Recent releases of this iconic collaboration have been inspired by Arnold Palmer's style himself. This means colour, aviation motives and his signature umbrella logo. It's fun and colourful, but also suitable wear for the golf course — which as we all know has strict guidelines on what is, and what isn't acceptable as attire.
The 2022 Puma x Arnold Palmer Collection
Men's polos and layering items, three caps, and a slip-on golf shoe are all part of the limited-edition line from Puma Golf, a collection which is detailed to Palmer's tastes. The hangtags on the men's golf shirts were modelled after the cataloguing labels found in Arnold Palmer's archives, and the shell buttons have his name etched on them. The Contender Golf Polo and King Golf Polo both have all-over prints with golf clubs and references to Arnold's favourite beverage, iced tea and lemonade.
It's all a curated tribute to the king, calculated to the precision of a golfer.
The snapback, rope cap, women's adjustable hat, and youth-sized options are among the best hats available from Puma's Arnold Palmer Collection. The green men's snapback cap with a white sketch-lie design running across the front is in front of the pack, a hat which gains elegance from the leather fastening running across the back.
The collection also includes three pairs of shorts, a quarter-zip pullover in teal or blue, a crewneck sweater in pink or teal, and leather slip-on golf shoes. At Bay Hill this week, Puma Golf pros Rickie Fowler, Gary Woodland, and Emiliano Grillo are anticipated to wear a few of these outfits.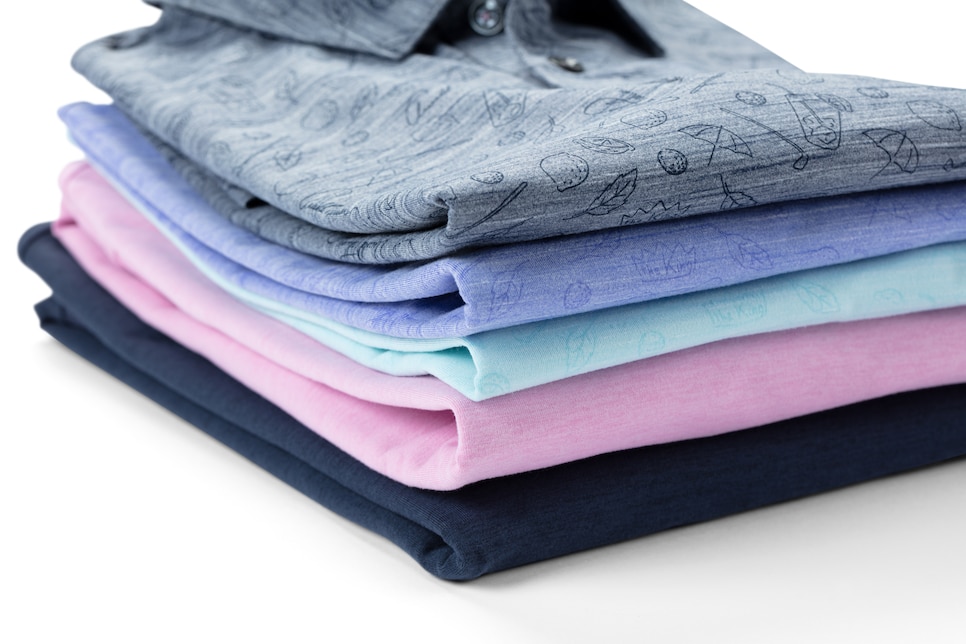 What Comes Next?
In order to continue producing limited-edition items for the Arnold Palmer Invitation and to begin developing a co-branded collection, Puma Golf and Arnold Palmer Enterprises entered into a multi-year agreement in 2019. The Puma X Arnold Palmer line debuted in June 2020 and highlighted Arnie's love of aviation, his Latrobe, Pennsylvania, roots, and Bay Hill, the Arnold Palmer Invitational's home course in Orlando. This means we can expect many more golf collections from this match made in heaven.