Jean-Michel Basquiat was iconic not just for his art, but for his eclectic and unapologetic sense of style. Read along to find out all about Basquiat's clothes.
There's a photo of Basquiat, where he's sat on some indecipherable object, barefoot leg propped up as he perches in front of one of his paintings. He's wearing a dark suit and a white shirt, ironed, for a change.
The photograph itself is somewhat of an art piece – the chaotic backdrop a neat contrast to Basquiat's clothes, which in turn contrast his signature hair and barefoot toes. Even the composition of his posture, so casually perched and yet so elegant, contributes to the juxtaposition of the legendary artist.
Jean Michel Basquiat rose to fame in the 80s and rather quickly began acquainting himself with the likes of Bowie and Warhol – two iconic-status celebrities with eclectic visual imagery of their own.
---
In this circle of socialites he found himself in, Basquiat was faced with the dilemmas a black artist with barely precedent in the white community.
---
Many times had Basquiat stated his desire for fame like that of some of his idols – Jimmi Hendrix and Charlie Parker. It is possible then, that the young artist took cues from his idol's romantic-poverty fashion and embraced it as his own. But much like Hendrix was deemed "bleached" by Black America, Basquiat soon fell into the same trap himself.
Prior to fame, Basquiat's clothes were anything but counter-culture. He embraced the 80s polka dots and disco in a very ordinary way. But his visions were always set towards the future, and with his popularity came a change in style. He began wearing the Armani suits he became so famous for and his jackets and trousers became a mismatch of formal attire. His tie was loosely thrown over his shoulder.
In a way, Basquiat was likely very aware of how far his image could drive him in the art scene. He was likely also aware of the trends in the privileged west and of Eurocentric beauty standards. And all of this knowledge, if translated into fashion, meant that Basquiat understood the importance of dressing for a primarily white art-world audience who would so desperately cling to any commonalities they could find with the artist. In the words of critic Dick Hebdige, Basquiat."…had to be… bleached out of his (b)lackness".
His genius however lies in how he managed to seep graffiti culture into his look. From the careless paint splatters to the casual bare feet and forever spiky hair – Basquiat carved himself a persona through his fashion. He found himself with the brand Comme des Garçons, which he modeled for in SS87, sporting a striped suit and overly polished shoes. Even though he sported the brand often, he always did so covered in paint, or often joint burns.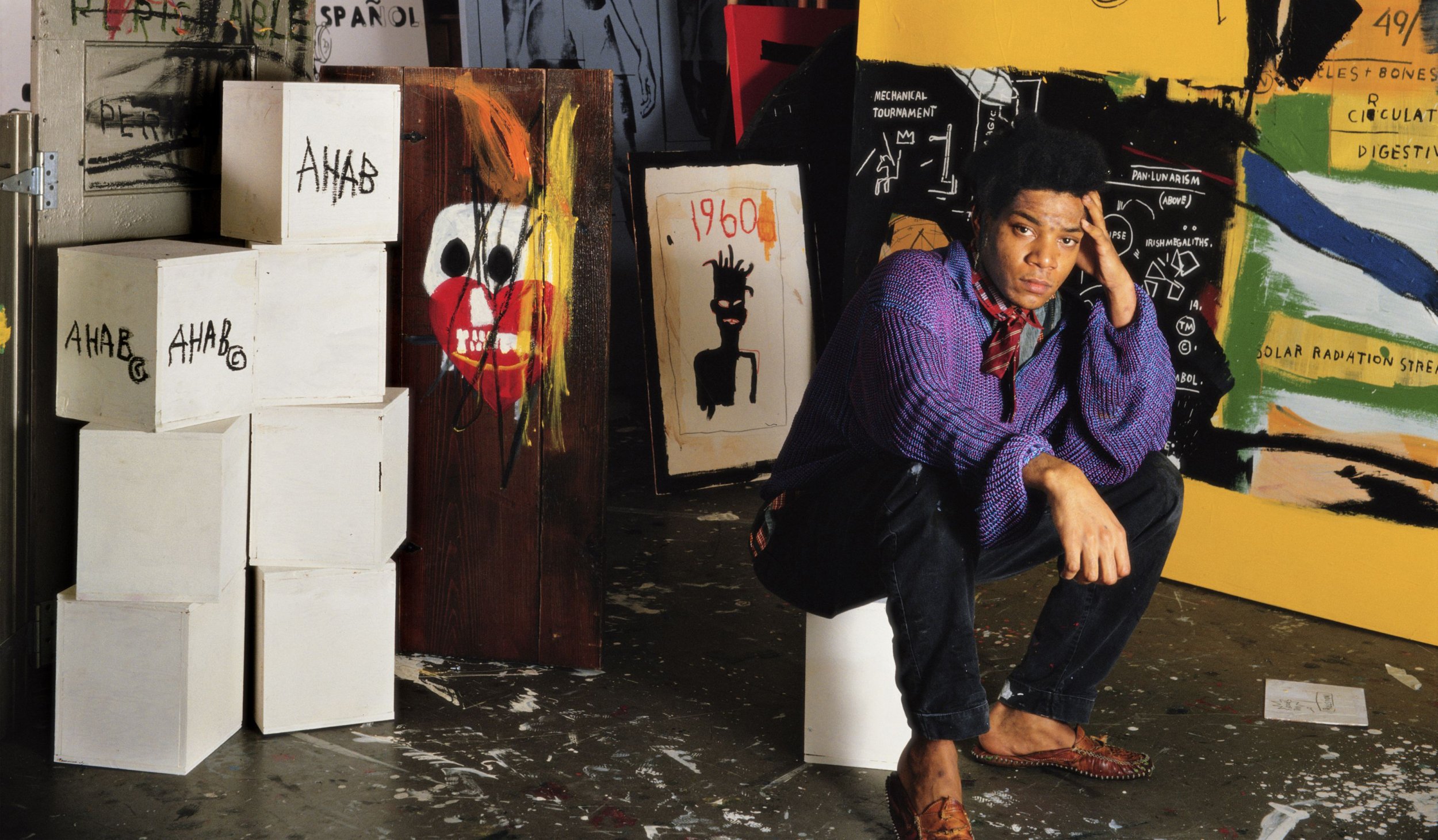 ---
His legacy follows him closely up to this day. There have been several modern interpretations of his looks, and brands have often drawn inspiration from him to take his canvas art and translate it into textile. His unapologetic sense of style has served as inspiration for Urban Outfitters, Saint Laurent, Converse, and many others.
Considering the artist used walls, doors, and all sorts of surfaces as a canvas, it is surprising he did not venture into fashion.