It's not just an enviable moustache and some funky art that marks Salvador Dalí as one of the most influential artists of our time – he happens to do the whole fashion thing pretty well too.
Salvador Dalí was a jack-of-all-trades in the art world, and master of them all as well. Throughout his career, the Spanish master delved into all sorts of art forms, namely sculpture, scenography, painting and writing (whilst some of us are still here barely being able to draw anything but clumsy stick-men).
His surrealist style quickly became identifiable too, with all its eccentricity and outlandishness – two traits which Dalí also embraced wholeheartedly in everything he dipped his toes into.
Salvador Dalí and his Closet
Dalí's closet likely didn't include a single monochromatic piece of clothing. He was more of a scandalous dresser, always opting for leopard prints, tailored stripy suits and casual wear – all accessorised to the max. He was not afraid of standing out, something which should already be obvious through his art, but that was also a core component of the man's sense of style and surrealism.
His lavish coats, if anything, have stood the test of time impeccably, as have his ruffled shirts. He still, however, remains most known in his double-breasted tailored suit, always paired with an eccentric waistcoat for the glamorous glitz.
His Influences on Surrealism
As an avid Freud reader, throughout his career, Dalí became obsessed with Freud's notions of the unconscious, and for a good reason – Freud backed up all of his thinking on fantasies, fears, desires and frustrations. Several times did the Spanish artist fly to Viena in the hopes of personally meeting him but never once succeeding in doing so until 1938 when the artist was already well established within the art world.
The Spanish artist was also heavily interested in the Dada philosophy, whose major goal was to disrupt society's social standards by creating art that would shock, confound, or upset people. One of Dalí's works, in fact, is titled "Dada, Surrealism and their Heritage" and is in fact for sale. You can check it out here.
The White Lobster Salvador Dalí Dress
Once within this secluded art club, in the midst of drinking wine with the Parisian surrealist groups of the 1930s, Dalí encountered Elsa Schiaparelli, a revolutionary Italian fashion designer and Coco Chanel's alleged nemesis. Their friendship was a match made in heaven and none of these two artists had any desire to be conspicuous about it. As a matter of fact, both had an insatiable desire to stand out amongst the crowd, and they went on to do precisely that with their now iconic and at-the-time provocative lobster dress.
The lobster on a white dress was a 1937 design which can be considered the first-ever art-fashion collaboration and enduring evidence of Schiaparelli and Dalí's friendship. Lobsters, a recurring motif in Dalí's artwork, were used to represent sexuality, which paired with Schiaparelli's desire to break the moulds of femininity in the thirties, set this particular garment in stone in terms of fashion history.
So much so that we have seen its re-appearance in the 21st century, modernly interpreted and worn by the likes of Miuccia Prada or for the House of Schiaparelli's then-creative director, Bertrand Guyon.
Their friendship was, of course, mutually beneficial. Schiaparelli was Dalí's gateway into Parisian high society, and likewise, he offered a world-class pedigree in the art world to whoever he was seen with.
Dalí and Schiaparelli's love child doesn't not die there. The pair also worked together on the slipper-hat, sketched by Dalí and dutifully introduced to Schiaparelli's Fall-Winter 1937-38 collection.
The hat was designed to be worn with a black dress and jacket embroidered with crimson lips, evoking the voluptuous actress Mae West, for whom Schiaparelli was making movie costumes at the time. Gala (Dalí's wife), Schiaparelli, and Daisy Fellowes (an avant-garde socialite and heiress), were the first to wear it in Venice.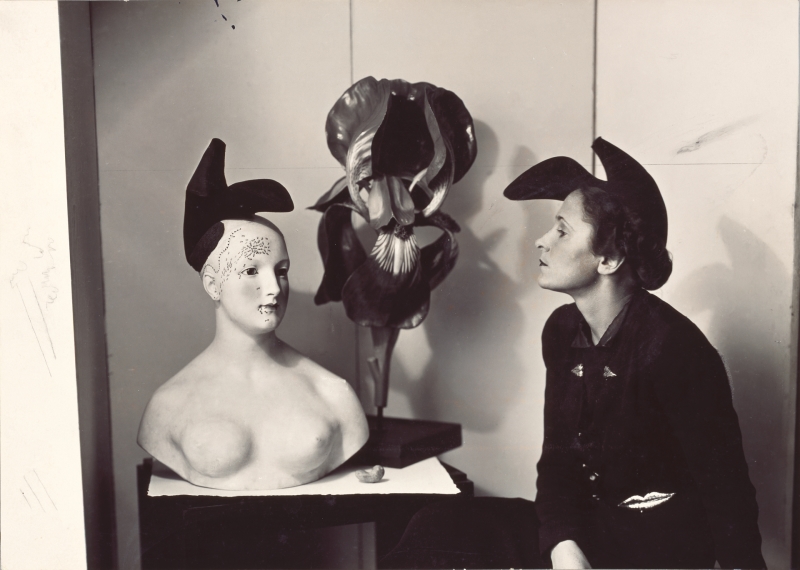 The Double D – Dalí and Dior
It was also in the thirties (which at this point we can all agree as being one of the most prominent and productive decades for the Spanish artist), that Dalí and Christian Dior crossed paths. The pair first encountered when Dalí exhibited some works in a gallery run by Dior, which had to close down due to economic depression.
Years later, the pair met again for the design of a dress for a futuristic fashion event held in Brasil.
The garment was a design of elegance and arrogance, expecting women in 2045 to be over-civilised and in need of a crutch for spiritual and moral support – which retrospectively has not aged as the most feminist of commentaries.
It goes without saying that Dalí's collaborations and outlandish embracing of boldness has likely influenced today's fashion more than we care to admit. Even down to his personal imagery: one has to simply glance down the streets of central London to realise that the moustache is truly back in style.
Why not read about surrealism next? Check DDW's take on it here.