From Britney Spears to Sansa Stark, here are some of the best (and worst) dressed celebrities for halloween over the years – just in case you don't have a costume idea yet.
That time of year is fast approaching and, if you're lucky, your social media isn't plagued with recipes, party decorations and all things halloween when the real terrifying issue here is finding exactly what to wear this halloween. Looking back over the years, here are some of halloween's do's and don'ts, celebrities which aced the assignment and those that… well, failed, when it came down to costume business.
With all the stylists and creative masterminds behind all of their looks, a poorly executed celebrity costume hasn't got much of an excuse, and truth be told they tend to be quite well put together. That being said, some ideas are borderline genius, whilst others.. lets just say they fall a bit behind.
Have a look.
Hailey Bieber as Britney Spears
6/10
Iconic, but arguably basic, Hailey rocked the Britney Spears look last halloween, and she was quite committed as she dressed up not just once but four distinct times in Britney's most iconic outfits. The iconic red latex must've not been easy to squeeze into, that's for sure.
Lizzo as W-A-P
8/10
We're ranking this one quite high because it's – well – rather funny. Dressed up in an ode to Cardi B's "wet ass pussy", Lizzo went sexy but modest (ish, her breasts were sort of hanging out), in a costume which was hilarious for those in-the-know, but innocent enough for your little nephew to have absolutely no idea what the international superstar went dressed as.
To be honest, we're not even sure ourselves.
Kylie Jenner as a Power Ranger
5/10
I mean, yes – they are all power rangers, and they committed with the wigs and likely quite expensive sunglasses – but there's something about this costume that screams basic two second Pinterest search. We're settling for a mid-ground rating, if anything because it was a group costume and it's always nice to get friends involved.
Harry Styles as Dorothy
9/10
What is there not to like about Harry Styles' gender bending fashion sense? Rosy cheeks, short studded heels and a dog inside his Dorothy basket make this one iconic halloween costume which will surely stand the passing of time.
Plus, he chose a short sleeved dress under which all his arm tattoos peak out – quite the touch.
Lili Reinhart, Madelaine Petsch and Camila Mendes as The Powerpuff Girls
1/10
The idea is great, albeit the execution failed for the Riverdale superstars. Fans went wild, although not because of the halloween costume, but the trio getting together.
We're particularly bothered that whilst Lily and Madelaine boast of shiny tops that match their skirts, Camila is wearing a top of an entirely different material. Also, Madelaine opted for white socks which none of the other girls seemed to vibe with.
It's all in the details.
Bella Hadid as Fred Flinstone
6/10
There's two types of girls on Halloween and we know what kind Bella is. In the sexiest possible outfit for a literal caveman, Bella wore a wig, did her makeup and then put on a very short skirt and a very cropped bralette.
Considering Mr. Flinstone's attire is a very long t-shirt (some would call is a dress), we have to say Bella was not the queen of accuracy – but she did look hot getting it all wrong.
Kim Kardashian and Jonathan Cheban
7/10
Okay but there's a level of genius to this costume which is worth a second of appreciation. Whilst Cheban is dressed as Tiger King himself, Kim went as the tiger-saviour of Caroline Baskin – eager to save her baby children, all dressed up as tigers.
It was also very fitting to the times and hopping on massive hype, something which Kim tends to always do quite successfully.
Joe Jonas as Sansa Stark
8/10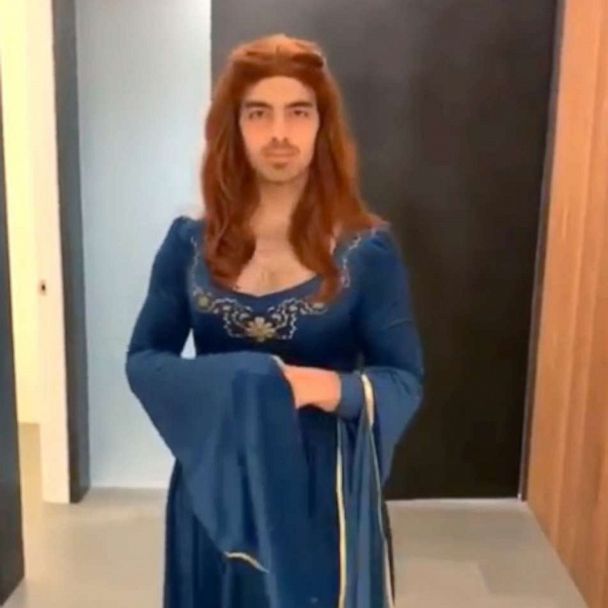 Again, this one's quite funny. Dressing up as the role that catapulted your wife into fame (Game of Thrones, Sansa Stark) is a great move. We wonder if he actually got hold of the costume she used on set, or if like the rest of us mortals he had to resort to a costume store bought affair.
Either way, he's done it well.
Heidi Klum as An Alien Experiment Gone Wrong
9/10
We could write up a whole article on Heidi Klum's halloween costumes (and perhaps some day we will) but for the time being we'll bring up one of her best; the alien experiment gone wrong.
There's no sexy in this outfit, instead it's quite gore, a little creepy and extremely well executed – which is why it deserves its soaring 9/10.
Emrata as Marge
7/10
From a distance you can't even tell its Emrata under all that paint, that tube dress and elongated wig. We can't even imagine the effort of covering yourself up in paint from head to toe, which is perhaps why this costume ranks high – it is in fact quite original.
And as for this year's halloween costume? Our bets are on many Elvis costumes, Squid Game tracksuits and Bridgerton references.