The essential luxury slippers for 2020
Slippers have been a staple of Royalty and debonaire society since their first recorded use in 4000 BCE. Emerging from the palaces of China, to the feet of the Pope in the Holy See and the courts of England, this footwear style has managed to unwaveringly permeate centuries of fashion.
Originally intended purely to be worn in the lavish homes of their wearers – these shoes became exceptionally popular during the Victorian era, influenced by Prince Albert's dandy fashion who is said to have invented the most popular modern style (velvet, with an extended 'upper' and small heal).
Today, there are a number of luxurious brands that have tapped into the rich heritage of slippers, bringing in a whole new era of slipper fanatics for the new millennia. DDW explores some of the best brands to look out for:
Flabelus for Advani
Founded by Bombay born, London based, designer Satyam Advani, this luxury house creates products that celebrate the heritage of bespoke tailoring and old-school glamour. Combining the premium textiles of the East with the aesthetic sensibility of the West – Advani plays on the bygone era of nostalgia and abundance, where shoes and clothing were made with the care and quality to last a lifetime and beyond.
Launched to great acclaim in Miami during Art Basel, Advani has since featured popups in St Moritz, London, Zurich, Marbella and Jaipur and garnered the support of mega-stars such as Oscar winning actor Eddie Redmayne who wore now iconic Advani slippers to the Golden Globes within weeks of their launch.
Advani is made with consciously-crafted luxury in mind and a keen awareness towards sustainability and integrity. Using only natural materials and no skins, Advani's wool is sourced from Loro Piana and Barberis, two of the most sustainable wool mills in the world.
Flabelus for Advani is a collaboration between Advani and Flabelus, a sustainable shoe brand from Spain. Inspired by the original Venetian gondola slippers and modified for a city look utilising 100% organic highly luxurious materials including linen, velvet and organic cotton (sustainably crafted in Spain with a recycled tyre sole and 100% recycled cotton inner shoe), these shoes are a joy to wear at home or out, from day to evening.
Advani for Flabelus is available from 10th August exclusively here and at Advani's London Mayfair boutique at 58 Maddox Street W1S 1AY
---
Stubbs & Wootton
Widely credited for re-igniting interest in elegant slippers amongst American preppy elites – Stubbs and Wooton dates back to 1993 when Percy Steinhart left his job as a New York financial advisor to make a shoe that befit his passion for comfort and luxury alike. Naming it after the two most prominent British wildlife painters John Wootton and George Stubbs he embedded a sense of Britishness to the original designs paired with a sprinkling of tongue-in-cheek charm of his Cuban heritage.
The idea clearly took off and now 27 years later- everyone from royalty to pop stars are seen rocking S&W slippers across the world.
---
Gucci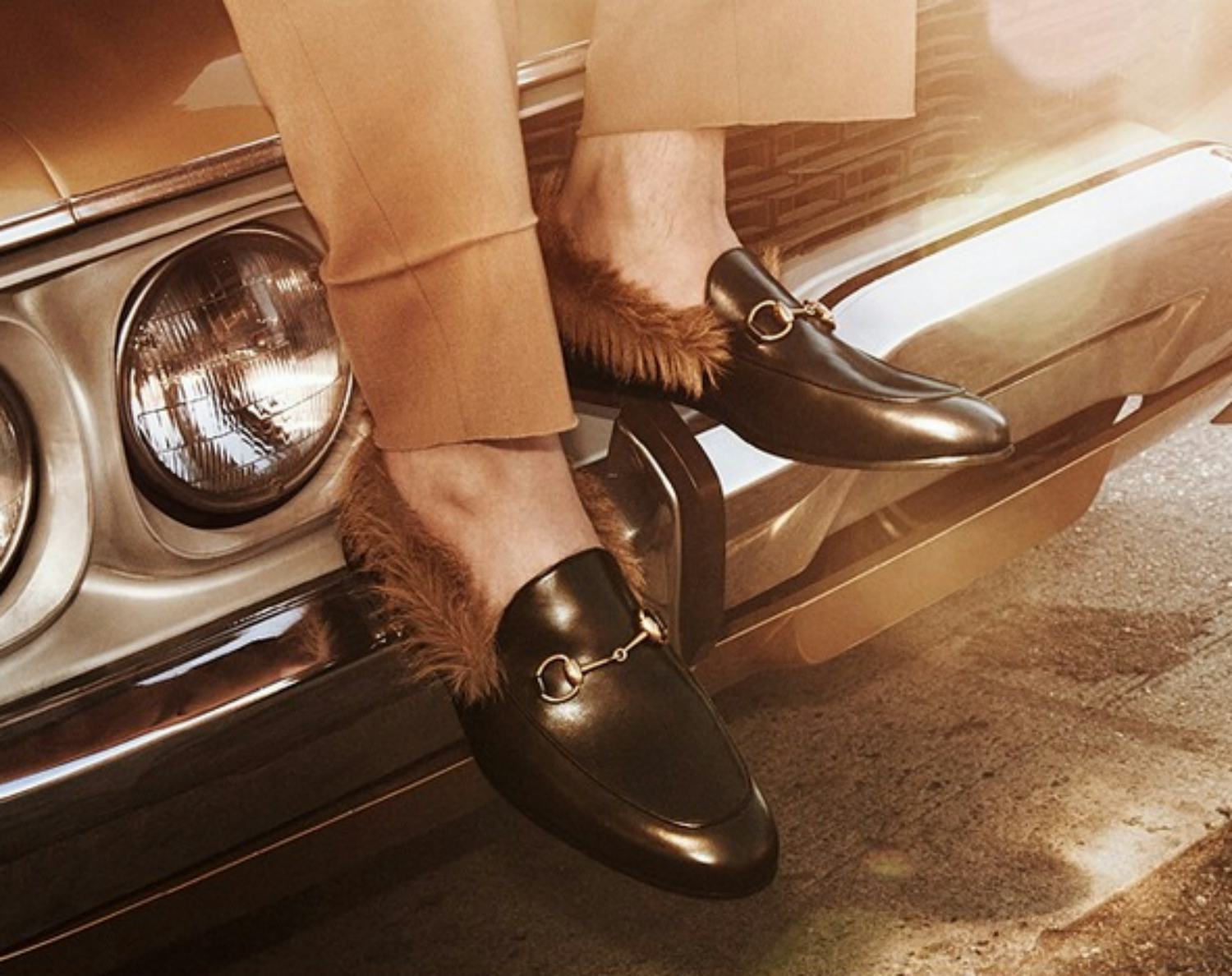 Sixty seven years ago, fashion-house founder Guccio Gucci's son Aldo Gucci created a loafer that changed the world of luxury footwear forever. Made with exceptionally soft leather that proved to be surprisingly durable and adorned with a distinctive snaffle bit detail, this shoe quickly became a favourite of the jet set around the world. Decades later – the brand has grown from a leather goods maker for the elite into an international fashion powerhouse.
Building on the heritage of the first loafers that built the house of Gucci – the Italian brand has once again created another iconic shoe; an open backed, horse-bit fronted, fur-lined, leather slip-on that feels as elegant and nonchalant as it looks.
---
Venetian IT girls Viola and Vera Arrivabene were inspired by the 'Furlane' famous slippers of the gondolieri which feature plush velvet outsides with a rubbery tyre sole (said to originally be made from old bicycle tyres). Certainly, Venetians have historically loved slippers – with galas, balls and intrigue being woven into the very fabric of the city and its society.
With their unique take on this famous item, the Arrivabene sisters have created a powerful new brand complete with its own modern styles, fashion and a sense of historic luxury.
---